WE'RE BAAACK!! Oh my goodness…it's been awhile! (What did we miss? :D)
We'll be playing our FIRST PUBLIC SHOW since Covid on Friday, December 10 in Ybor City, Tampa! Celebrating the release of our new digital album, "A Very Cheeky Christmas". Showtime 7pm. Rain date Saturday, December 11.
Then, on Friday December 17, we'll be livestreaming through Godfrey Daniels, sending out our best wishes for a Happy Holiday season to all our friends far and near. Showtime 7pm.
See our schedule for more details. It's good to be back!
_________________________________
COVID-19 UPDATE:
ALL SHOWS CANCELLED UNTIL FURTHER NOTICE!
Please stay safe, everyone. We hope to see you all when this is over.

________________________________________________
Check out our schedule WEEKLY to see where we're playing. We're adding new shows and venues all the time!  And since we're here for good, we are always looking for fun new places to play… wineries, house concerts and private events are our specialty!
If there's a place you love to hear live music, and they don't know who we are yet, Tell 'em!
We are currently booking through 2020 and beyond. Let them know you're a Cheeker!
We can be reached by phone, text or email. 610-392-8286. RockMeDaddy18@gmail.com.
We've recently added some sweet local FL breweries and wineries. Hope to see you there!
________________________________________
HEY FLORIDA! We're BACK FOR GOOD!
Yep, it's OFFICIAL… Mike and Jenn are now FLORIDIANS. We are really looking forward to seeing all our Tampa Bay friends at our upcoming gigs!! Check out our schedule for details, we've got a lot of GREAT venues and shows on the books!!
________________________________________
FALL IN PHILADELPHIA… (well, Allentown, actually) CATCH US WHILE WE'RE HERE! In December we'll be GONE !! See our full schedule here: SCHEDULE
_____________________________________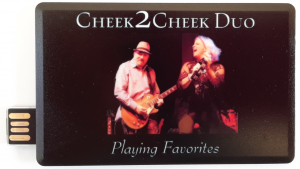 BIG NEWS!! Announcing our brand new album, PLAYING FAVORITES!!
This MULTIMEDIA ALBUM is chock full of great music, videos and other fun stuff from our last 2 years of touring. Expect to go to the beach! (No sunscreen required.)
This is our second release as Cheek2Cheek, and our first time using this user-friendly USB card as our media of choice. We hope you have as much fun enjoying it as we've had making it!
Order your copy of PLAYING FAVORITES here:
______________________________________________________________
Our 2019 WINTER TOUR has been going great! Just a few more weeks before we have to pack up and head North. Catch us LIVE if you're in Florida, or on our LIVE FACEBOOK STREAM if you're not!And if you'd like to show us some LOVE… Here's our digital tip jar: