FALL IN PHILADELPHIA… (well, Allentown, actually) CATCH US WHILE WE'RE HERE! In December we'll be GONE!! See our full schedule here: SCHEDULE
_____________________________________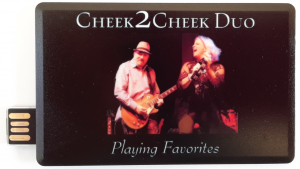 BIG NEWS!! Announcing our brand new album, PLAYING FAVORITES!!
This MULTIMEDIA ALBUM is chock full of great music, videos and other fun stuff from our last 2 years of touring. Expect to go to the beach! (No sunscreen required.)
This is our second release as Cheek2Cheek, and our first time using this user-friendly USB card as our media of choice. We hope you have as much fun enjoying it as we've had making it!
Order your copy of PLAYING FAVORITES here:
______________________________________________________________
Our 2019 WINTER TOUR has been going great! Just a few more weeks before we have to pack up and head North. Catch us LIVE if you're in Florida, or on our LIVE FACEBOOK STREAM if you're not!And if you'd like to show us some LOVE… Here's our digital tip jar: