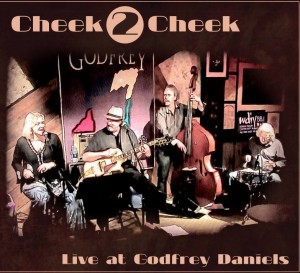 BIG NEWS!!  We are excited to announce our new CD,  "CHEEK2CHEEK LIVE AT GODFREY DANIELS" is currently in final production and is scheduled for release in April 2016!!  We will have it available for purchase online as soon as possible! Meanwhile, Check out our brand new YouTube channel for previews: HOW HIGH THE MOON Cheek2Cheek                    BLUES MIND Cheek2Cheek
HAPPY HOLIDAYS FROM ALL OF US AT MCD MUSIC!!!
——————
POST-THANKSGIVING NOTE: Oh, what a night!!  That was one heck of a show!! Our thanks to Artsquest and Philly Funk for cohosting the best dance party in the Valley!! We hope to do it again next year! Video to follow, stay tuned!!
—————–
Get ready for one very FUNKY THANKSGIVING PARTY JAM!!
DUGAN THOMAS and the PHILADELPHIA FUNK AUTHORITY will be RAISING THE ROOF TOGETHER at MUSIKFEST CAFE at Steel Stacks on FRIDAY, NOVEMBER 27!! Get ready to DANCE and get your tickets early, this show will sell out!! Tix at www.artsquest.org.
——————
CHEEK2CHEEK JAZZ QUARTET LIVE AT GODFREY DANIELS! SATURDAY, SEPTEMBER 19 AT 7PM tickets available NOW at www.godfreydaniels.org !! COME BE A PART OF OUR LIVE CD/DVD RECORDING at the Lehigh Valley's original and best listening room!! CAN'T WAIT TO SEE YOU AT GODFREY'S!!!
MUSIKFEST 2015 is here! DUGAN THOMAS will be lighting up the AMERICAPLATZ stage at LEVITT PAVILLION on Saturday, August 15 at 7pm. FREE SHOW!!! Come out and dance on the lawn, or just kick back and enjoy as we jam beneath the iconic STEEL STACKS at the World's largest free music festival!! SEE YOU AT MUSIKFEST!!
We are excited to announce our first appearance at the Sourland Music Festival on July 18!  DUGAN THOMAS plays at 7pm, followed by Canned Heat. The festival starts at 3pm with music, food and drink, arts, crafts, hot air balloon rides, and much more. Fun for the whole family! Proceeds benefit the Sourland Conservancy. OUR FANS SAVE $5 ON ADMISSION – ONLINE ONLY!!!  Enter promo code DUGAN when ordering tickets online at www.sourlandmusicfest.org for your fan discount!
Check out Cheek2Cheek's latest video, live onstage at Steel Stacks! Here's Mike and Jenn with Mitch Shelly on upright bass: "Money" Cheek2Cheek trio @ Musikfest Cafe
DUGAN THOMAS is Mike's smoking hot all-star jam band, and the culmination of his career as a master guitarist, songwriter, and bandleader.  Here they are, rocking a crowd of 2000+ at last year's Blues, Brews and BBQ's festival in Allentown: BAD CASE OF THE IN BETWEENS
MUSIKFEST 2014 started off with a BANG! Filling in for ZZ Top on the Main Stage, Mike mesmerized a crowd of over 4000 cheering fans on opening night. Hot off the presses, here is the Morning Call's review of the show:  Dugan/Thatcher Show Opens Musikfest 2014
DROWNING IN GUITARS!
Mike has gained a worldwide following through the hundreds of demo videos he has recorded for www.drowninginguitars.com. Fans from every corner of the globe have been turned on to Mike's mastery through his online work. Here's Mike putting a Gibson Les Paul through its paces: '96 Les Paul Demo by Mike Dugan