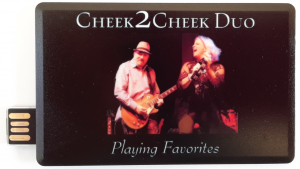 BIG NEWS!! Announcing our brand new album, PLAYING FAVORITES!!
This MULTIMEDIA ALBUM is chock full of great music, videos and other fun stuff from our last 2 years of touring. Expect to go to the beach! (No sunscreen required.)
This is our second release as Cheek2Cheek, and our first time using this user-friendly USB card as our media of choice. We hope you have as much fun enjoying it as we've had making it!
Order your copy of PLAYING FAVORITES here:
—————————————————————————-
Our 2019 WINTER TOUR has been going great! Just a few more weeks before we have to pack up and head North. Catch us LIVE if you're in Florida, or on our LIVE FACEBOOK STREAM if you're not!
And if you'd like to show us some LOVE… Here's our digital tip jar:
THANK YOU for keeping QUALITY LIVE MUSIC alive and well!!
Jenn and Mike
———————————-
FLORIDAAAHHHHHHH… We're BACK!!
HAPPY NEW YEAR!!
It was an arduous journey South, and we landed in the pouring rain… but we MADE IT!!! We're so grateful to be here, and playing at our favorite FL haunts for another Winter season.
We hit the ground running, playing 7 shows in just over two weeks. here's a recap:
12/15: 1916 Irish Pub, Plant City, FL
12/20: Private Christmas Party, Bradenton, FL
12/21: Ybor City Wine Bar, Tampa, FL
12/22: Whiskey Joe's Beach Bar, Tampa (Cancelled due to storm damage!)
12/24: Paradise Grille, Pass-A-Grille Beach, FL
12/26: Snook Haven, Venice, FL
12/28: 5 O'clock Club, Sarasota, FL
12/31: New Year's Eve Party @ Island In The Sun, Clearwater, FL
Whew! What fun! Thanks to all our friends and fans that came out to welcome us back, it sure made the holidays special for us.
We're taking a couple of days for some R&R, and then we'll be right back at it! Busy filling up our calendar for the rest of the season, till it's time to pull up our stakes again and head North in May.  So come on out and catch us while we're here, the time sure does fly by when you're in paradise!!
Check out our schedule anytime here: Cheek2Cheek SCHEDULE
We look forward to seeing you this Winter!!
Cheers,
Mike and Jenn
"Cheek2Cheek"
____________________
HERE WE GO!!  T-minus 30 days and COUNTING!!!
PA/NJ friends and family, we have less than a month to go before we head out on the road for WINTER TOUR 2019! Fall has flown past faster than ever. We've had some great times with friends and family, and we're really looking forward to our last few shows before we hit the long. long. road.  Please come out and give us one more hug before we leave. We won't miss shoveling snow. But we'll miss all of you!
LAST SHOW up North is GODFREY DANIELS on Dec. 8!
Special guests include Alex Radus, Dave Fry and introducing Jayden Kline
FIRST SHOW in Florida is on Dec. 15 at 1916 Irish Pub in Plant City!
That's only a week apart!! (I'd better start packing… seriously…)
Are we crazy? Maybe. OK, probably.
Are we going for it?? Heck, yeah!
Florida friends and family, we look forward to seeing you for the holidays!!
_______________________
HOT OFF THE PRESS:
Video from MUSIKFEST 2017:
______________________
If it's Sunday, this must be…Wildwood!
HERE WE GO AGAIN!! Another crazy Summer, playing in the Lehigh Valley AND the Jersey Shore… Catch us if you can! Turn it on and Light it up, let's get this show on the road!!
Check our schedule here: SCHEDULE
__________________________________
HEY LEHIGH VALLEY!  WE'RE BAAAACK!!!
What a long, strange trip it's been… 18 weeks, 50 shows, 3000+ miles!
But now we're BACK IN PA for MAY!!
Check us out at a local show SOON, we head back down to the shore for Memorial Day!
__________________________________________
CHEEK2CHEEK WINTER TOUR 2018 IS IN ITS FINAL WEEKS!!
We have had a BLAST in the beautiful Sunshine State this winter! But it's almost that time… just a few short weeks left before we have to fly the coop…
We're extremely grateful to everyone who made this tour possible!!
50 performances in 18 weeks, pretty sure that's a new record! (even for Mighty MIKE DUGAN!)
FINAL WINTER  SHOWS AT A GLANCE:
Sat, 04/21/2018 6-9pm – Exit 10 Bar and Grill @ Lazy Days RV Resort
__________________________________
WHOO HOO! We're a month into our WINTER TOUR 2018 and having a blast!! We've been making the rounds on the Gulf Coast, seeing old friends and making new ones. Returning to our established venues and picking up some awesome new places to play! Please check our schedule often, as we are constantly adding new dates. We'll be here through April so come on down to FL and have yourself a little Winter getaway with sun, sand, and Cheek2Cheek!!  Here's a great site with an easy-to-read listing of all our FL gigs: GoTonightMikeDugan'sCheek2Cheek
JUST ANNOUNCED: VALENTINE'S DAY BAREFOOT BEACH PARTY at WHISKEY JOE'S!! Grab your sweetie, hop on a plane and hit the white sand dance floor on February 14! What could be more romantic than THAT!!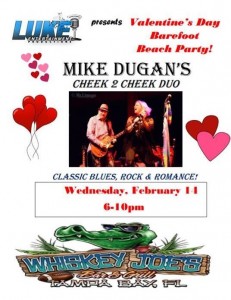 _______________________________
LOOK OUT FLORIDA, HERE WE COME!!!
Cheek2Cheek Duo will be hitting the road in less than a week for our Winter Tour!
FIRST STOP: WHISKEY JOE'S BAREFOOT BEACH BAR on Thursday, December 21!!
IT'S MIKE'S BIRTHDAY!! Come celebrate with us!! (Don't you deserve a nice little beach vacay?)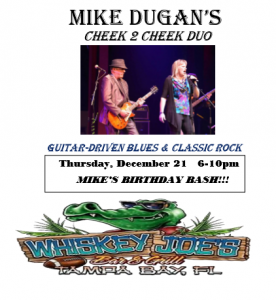 ____________________________________________________
WOW!! We had a BLAST at HERITAGE WINE FESTIVAL 2017!!!
MIKE DUGAN'S CLASSIC ROCK REVUE rocked out and kept the party going for 2 days!! We'd like to thank our friends at Heritage Winery for having us back again!
Two sold-out days in a row, over 5000 attendees, gorgeous weather, an awesome sound system, and oh yes, GREAT WINE!! We can't wait for next year!!
————————————————
FALL 2017: FUN, FESTIVALS, AND A BLUES MASTER CLASS!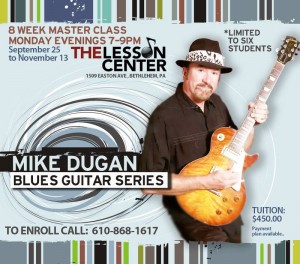 Summer's over, and we've got great things in store for Fall!
Check out MIKE DUGAN'S BLUES MASTER CLASS at the LESSON CENTER in Bethlehem, PA! 8-week program designed by Mike, very limited enrollment!
Starts Monday, September 25. Don't miss out! Register now at 610-868-1617.
MIKE DUGAN'S CLASSIC ROCK REVUE will be headlining our favorite event of the year,  the HERITAGE WINE FESTIVAL on September 23 and 24. We can't wait to play our hearts out for two full days at the best family-friendly party of the year! Did I mention there's wine??
Get your tix now, this events sells out every year! BUY TICKETS
_______________________________________
Summer 2017: CHEEK2CHEEK at the JERSEY SHORE!
That's right, we had such a great time playing at the beach in FL all winter, we decided to take the duo to NORTH WILDWOOD for the summer! We'll still do a few Lehigh Valley dates here and there(check our schedule), but starting Memorial Day weekend, we'll be playing EVERY SUNDAY through Labor Day at the North End American Grill in North Wildwood, NJ.  (The only exception will be our annual Musikfest show on August 13!) We love this place: very comfy, great staff and the best food in town! Make us part of your getaway plans this summer. See you on Sunday in WILDWOOD!
—————————
CHEEK2CHEEK WINTER TOUR 2017 is coming to a close!! We've had a BLAST playing up and down the Gulf Coast for the last few months, but it's almost time to pack up and head North for the summer. Check us out before we're gone!
Our FINAL FOUR shows of the tour are:
Friday, 4/7/17 – Paradise Grille, Pass-A-Grille, FL
Saturday, 4/8/17 – Paradise Grille, St. Pete Beach, FL
Wednesday, 4/12/17 – Sunset Grill, Apollo Beach, FL
Friday, 4/14/17 – Snook's Bayside Tiki Bar, Englewood, FL **FAREWELL SHOW**
We are gonna miss those gorgeous Gulf sunsets!! THANK YOU to all the fabulous folks we met on tour this Winter!! We'll see you all in December!
~ Mike & Jenn
BREAKING NEWS:
CHEEK2CHEEK DUO TAKES FLORIDA BY STORM!!
We are having a BLAST in Tampa! To paraphrase a quote from one of our favorite movies, "We came to kick butt and chew bubblegum. And we're all out of bubblegum!"
Check out our 2017 Winter Tour schedule so far:
1/4/17 – Sunset Grill, Ruskin, FL
1/13/17 – Snook's Bayside Bar & Grill, Englewood, FL
1/18/17 – Whispering Pines, Titusville, FL
1/26/17 – Whiskey Joe's Beach Bar, Tampa, FL
1/29/17 – Snook's Bayside Bar & Grill, Englewood, FL
2/4/17 – Paradise Grille, St. Pete Beach, FL
2/18/17 – Private House Concert, Mango, FL
2/24/17 – London Phil's, Clearwater, FL
2/25/17 – Private Corporate Event, Venice, FL
3/1/17 – Sunset Grill, Ruskin, FL
3/4/17 – Freckled Fin, Bradenton Beach, FL
3/8/17 – Florida Strawberry Festival, Plant City, FL
3/11/17 – Happy's Bayou, Dunedin, FL
3/11/17 – Tampa Convention Center, Tampa, FL
3/20/17 – Siesta Key Oyster Bar, Sarasota, FL
3/24/17 – Paradise Grille, Pass-A-Grille, FL
3/25/17 – Freckled Fin, Bradenton Beach, FL
3/26/17 – Chasco Fiesta, New Port Richey, FL
4/7/17 – Paradise Grille, Pass-A-Grille, FL
4/8/17 – Paradise Grille, St. Pete Beach, FL
… and we're just getting started!!
We are adding new dates every day, so check our schedule often at:
—————-
MONDAY, DECEMBER 19: GET UP CLOSE AND PERSONAL WITH MIKE DUGAN!
O Come, All Ye Guitar Geeks! This is a very special INTERACTIVE CONCERT sponsored by the FAB LAB at Northampton County College in South Bethlehem. Mike will play several of his favorite guitars, tell stories from his career and answer questions from the audience. Mike will also be demonstrating several of the guitars built at the FAB LAB! A must see for all guitar buffs! Tix are $15 and going fast!
Get your tix now at: https://whennow.com/event/evening-with-the-masters-with-mike-Dugan
———————————-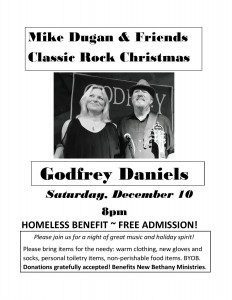 WOW!!!! A HUGE THANK YOU TO ALL WHO ATTENDED OUR CHRISTMAS SHOW TO BENEFIT THE HOMELESS!!!
We had such a warm and wonderful evening, and we raised a BIG pile of donations!! Many thanks to everyone who made this last-minute show possible.
WE LOVED IT SO MUCH, WE DECIDED TO MAKE IT AN ANNUAL EVENT!!! So mark your calendars for Saturday, December 9, 2017 for our next CHRISTMAS BENEFIT CONCERT AT GODFREY DANIELS!!!
——————————————————————————
ANNOUNCING A CLASSIC ROCK CHRISTMAS SHOW TO BENEFIT THE HOMELESS!                                      SATURDAY, DECEMBER 10 in the Christmas City of Bethlehem, PA! FREE ADMISSION!
Please join us at Godfrey Daniels Saturday, December 10 at 8pm! BYOB.
Please bring donations of warm clothing, new gloves/socks, and personal toiletry items for the homeless. We will be playing our best selection of Christmas and Classic Rock tunes to ring in the holidays!
If you can't make it to the show, please consider making a donation to benefit the Lehigh Valley's  hungry and homeless: Help The Homeless
You can also donate to the non-profit Godfrey Daniels to keep live music alive and well in the Lehigh Valley: Godfrey Daniels
Thank you and have a wonderful holiday season!
Mike and Jenn
Cheek2Cheek
———————————————
Check out our new CHEEK2CHEEK DEMO VIDEO:
Cheek2Cheek Duo CLASSIC ROCK DEMO
———–
MUSIKFEST 2016 is gonna be a BLAST with MIKE DUGAN AND FRIENDS commanding the Americaplatz stage on MONDAY AUGUST 8 at 7pm!!
We are super excited about the great show we have in store for you this year!! Come early for a good spot on the lawn, bring your dancing shoes, and don't forget your Musikfest mug!! We can't wait to rock AMERICAPLATZ!!!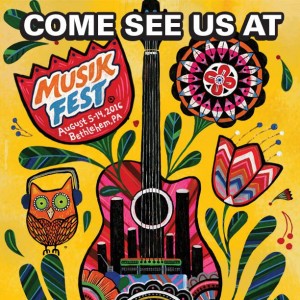 CHEEK2CHEEK is proud to return to the MAYFAIR JAZZ FESTIVAL on SUNDAY, MAY 29! We play from 2:30-4:30pm. Come early and stick around for the Eric Mintel Quartet!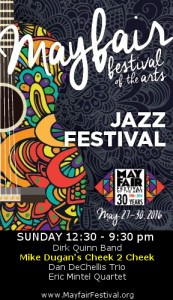 Announcing our newest offering: HOUSE CONCERTS!!
Do you like to entertain? Have room for 20 or more guests? Want to gain some bragging rights as the best party hosts in town??
How would you like to have Cheek2Cheek play a private concert AT YOUR HOUSE, at little or no cost to you? You put out some snacks, your guests pay a cover charge and bring a bottle of wine, and everyone enjoys an evening (or afternoon) of good company and great music!! Email Jenn for details: scorpiomoon2013@gmail.com.
We started marketing this concept on our Southern tour this past winter, and everyone loved it!! It was a big hit with friends and fans, and we like it too!!
—————————————————
Sunday, April 24, 2016:
We'd like to express our sincere gratitude to everyone who made our  CHEEK2CHEEK CD RELEASE PARTY at GODFREY DANIELS a huge success!! Thank you, thank you!! We couldn't have asked for a better night. A sold out show with a room full of attentive listeners makes it easy for us to make magic!!! Thanks again for all the love and support. If you missed the show, you can still get our new CD at any of our upcoming gigs, or order online from our CD page(coming soon)!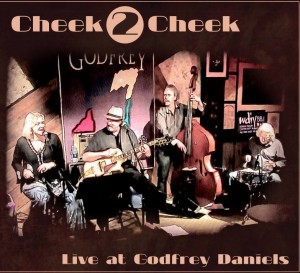 ——————————–
SATURDAY, APRIL 23 AT GODFREY DANIELS – SOLD OUT!!!
We are psyched!! We sure do have fun at Godfrey's! Check out our latest video: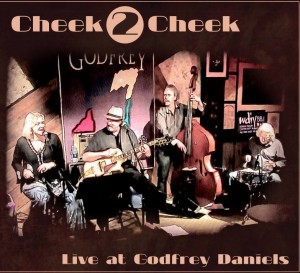 BIG NEWS!!  We are excited to announce our new CD,  "CHEEK2CHEEK LIVE AT GODFREY DANIELS" is currently in final production and is scheduled for release in April 2016!!  We will have it available for purchase online as soon as possible! Meanwhile, Check out our brand new YouTube channel for previews: HOW HIGH THE MOON Cheek2Cheek                    BLUES MIND Cheek2Cheek
HAPPY HOLIDAYS FROM ALL OF US AT MCD MUSIC!!!
——————
POST-THANKSGIVING NOTE: Oh, what a night!!  That was one heck of a show!! Our thanks to Artsquest and Philly Funk for cohosting the best dance party in the Valley!! We hope to do it again next year! Video to follow, stay tuned!!
—————–
Get ready for one very FUNKY THANKSGIVING PARTY JAM!!
DUGAN THOMAS and the PHILADELPHIA FUNK AUTHORITY will be RAISING THE ROOF TOGETHER at MUSIKFEST CAFE at Steel Stacks on FRIDAY, NOVEMBER 27!! Get ready to DANCE and get your tickets early, this show will sell out!! Tix at www.artsquest.org.
——————
CHEEK2CHEEK JAZZ QUARTET LIVE AT GODFREY DANIELS! SATURDAY, SEPTEMBER 19 AT 7PM tickets available NOW at www.godfreydaniels.org !! COME BE A PART OF OUR LIVE CD/DVD RECORDING at the Lehigh Valley's original and best listening room!! CAN'T WAIT TO SEE YOU AT GODFREY'S!!!
MUSIKFEST 2015 is here! DUGAN THOMAS will be lighting up the AMERICAPLATZ stage at LEVITT PAVILLION on Saturday, August 15 at 7pm. FREE SHOW!!! Come out and dance on the lawn, or just kick back and enjoy as we jam beneath the iconic STEEL STACKS at the World's largest free music festival!! SEE YOU AT MUSIKFEST!!
We are excited to announce our first appearance at the Sourland Music Festival on July 18!  DUGAN THOMAS plays at 7pm, followed by Canned Heat. The festival starts at 3pm with music, food and drink, arts, crafts, hot air balloon rides, and much more. Fun for the whole family! Proceeds benefit the Sourland Conservancy. OUR FANS SAVE $5 ON ADMISSION – ONLINE ONLY!!!  Enter promo code DUGAN when ordering tickets online at www.sourlandmusicfest.org for your fan discount!
Check out Cheek2Cheek's latest video, live onstage at Steel Stacks! Here's Mike and Jenn with Mitch Shelly on upright bass: "Money" Cheek2Cheek trio @ Musikfest Cafe
DUGAN THOMAS is Mike's smoking hot all-star jam band, and the culmination of his career as a master guitarist, songwriter, and bandleader.  Here they are, rocking a crowd of 2000+ at last year's Blues, Brews and BBQ's festival in Allentown: BAD CASE OF THE IN BETWEENS
MUSIKFEST 2014 started off with a BANG! Filling in for ZZ Top on the Main Stage, Mike mesmerized a crowd of over 4000 cheering fans on opening night. Hot off the presses, here is the Morning Call's review of the show:  Dugan/Thatcher Show Opens Musikfest 2014
DROWNING IN GUITARS!
Mike has gained a worldwide following through the hundreds of demo videos he has recorded for www.drowninginguitars.com. Fans from every corner of the globe have been turned on to Mike's mastery through his online work. Here's Mike putting a Gibson Les Paul through its paces: '96 Les Paul Demo by Mike Dugan