MIKE DUGAN GUITAR ACADEMY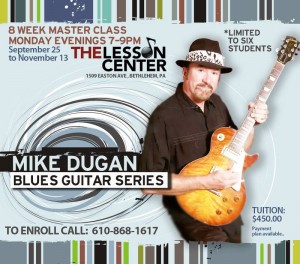 NEW FOR FALL 2017:  BLUES MASTER CLASS WITH MIKE DUGAN!
This 8-week program has been carefully designed by Mike to take your playing from "meh" to OMG!!  Expand your Blues vocabulary. Become freer as a player. Solo over any song in any key. Learn to internalize new ideas. Make practicing and playing fun again!!
8
Monday
evenings,
7-9pm
.
September 25 through November 13
.
Offered exclusively by MIKE DUGAN and the LESSON CENTER in Bethlehem, PA.
Tuition is $450 and can be spread out as CC payments.
Click on the above photo to view the details!
ONLY SIX STUDENTS WILL BE ACCEPTED INTO THIS PROGRAM!!
Avoid the waiting list, register NOW by calling the Lesson Center at
610-868-1617
.
________________________________________________________
Here's a FREE  INTRODUCTORY LESSON from Mike for you to have fun with!
How to play "Key To the Highway". We hope you enjoy it!
While you're on Mike's channel, browse around for more free lessons and pro tips!
Feel free to let Mike know what you'd like to learn from him! We are working hard to bring you a great library of downloadable tutorials, including parts 2 and 3 of "How to play Key To the Highway".  Mike's lessons are concise, easy to follow, and fun!!
__________________________________________________
BIG NEWS FOR MIKE DUGAN FANS ALL OVER THE WORLD: Now YOU can learn to play your favorite songs and licks, directly from master guitarist Mike Dugan himself!
ANNOUNCING the MIKE DUGAN WORLDWIDE GUITAR ACADEMY!!!
What songs, riffs, and tips do YOU want to learn from Mike Dugan? WE WANT YOUR INPUT! Just send us an email saying, "Hey Mike! I want you to teach me _______" and you'll get a FREE lesson! Tell Mike what you want to learn. Be concise. We'll thank you with a free video!
GRAB YOUR FREE LESSON! Click here to email Mike: MCDguitaracademy@gmail.com
DROWNING IN GUITARS FANS all over the world have known Mike for years. Now you can learn to play all the songs and licks you love, anywhere in the world, directly from the master guitarist you love to watch!  NEW TO "DROWNING IN GUITARS"??? Check it out:
Check out all of Mike's Drowning in Guitars Demos: Drowning in Guitars YouTube Channel
Got a favorite?? Email Mike at: MCDGuitarAcademy@gmail.com