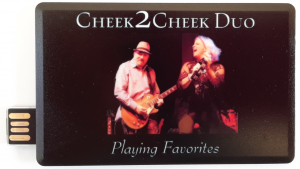 NEW RELEASE!!   Cheek2Cheek Duo  "Playing Favorites"
This MULTIMEDIA album is packed with audio, video and more from the dynamic duo of Mike Dugan and Jenn McCracken. Recorded over the last 2 years of touring, it features both studio and live tracks from Cheek2Cheek's ever-expanding repertoire of blues, jazz, classic rock and originals. Expect to see some video of Paradise, as we take you to St. Pete beach with us! (No sunscreen necessary!)
Click ADD TO CART (above) to order your copy TODAY!
______________________________________
DON'T MISS OUR ALBUM RELEASE PARTY!  MAY 18 @ Godfrey Daniels!
——————————————————————-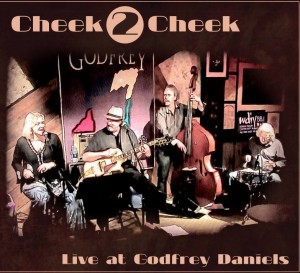 Cheek2Cheek Live at Godfrey Daniels: SORRY, SOLD OUT!!
Cheek2Cheek's first CD, featuring the Cheek2Cheek Quartet with Jenn McCracken on vocals/percussion, Arturo Baguer on bass and Whitey McVickers on snare.
——————————————————————–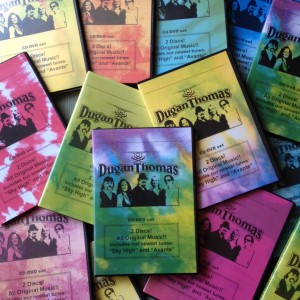 The Dugan Thomas DVD/CD Set: SORRY, SOLD OUT!!
DVD/CD 2 disc set featuring Dugan Thomas performing 7 original tunes, including their 2 distinctive "vocal instrumentals" SKY HIGH and AVANTE. This is the first DVD Mike ever released, and the only studio recording with the full jam band on it.  Released 2015. Tie-dye cover colors and patterns vary!
---
A Step Ahead Of Trouble:
Another classic album featuring Mike's signature Rust Belt Blues sound.
Tribute to Roy Buchanan. Released in 2000.
Songs include "Treadin Water", "Don't Mess With Me", "It's Never Too Late", "Mudhole Blues".
Featuring Henry on slide trombone!
---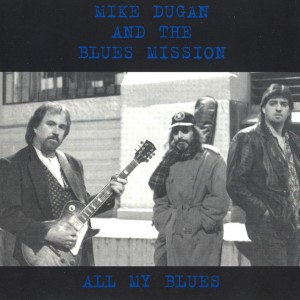 All My Blues:
Classic Mike Dugan originals. Tribute to SRV.
Some say this is Mike's masterpiece work! Released 1997.
Songs include the title track, "All My Blues", Gamblin With My Heart", Lyin In Bed", "Freezer Burn", "Turn it On and Light it Up".
---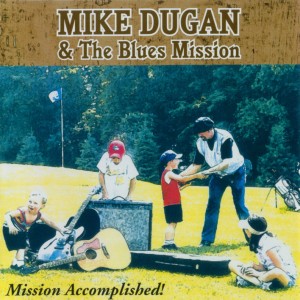 Mission Accomplished: SORRY, SOLD OUT!
Mike accomplishes his mission once again with his impeccable songwriting and searing guitar. Released 2003.
Songs include "Survival Blues","Drown My Sorrows","Long Distance Woman", "Snake Bit".
Featuring Super Dave Ward on blues harp!
---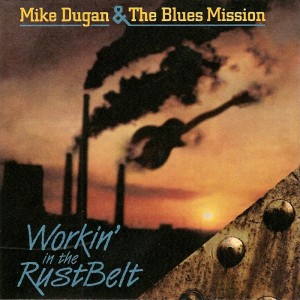 Compilation of three great CD's.
Workin' In The Rust Belt:
Remember" Blues from the Rust the Rust Belt", "Holy Live Blues" and the original Mike Dugan release" Workin". They are all combined into one fabulous CD.
---

From the Rough: SORRY, SOLD OUT!
This 2009 release is a six song EP that features two new originals, three live recordings and a bonus track.
Featuring Rob Fraser on bass, Jim Oakley on drums live, and Steve Decker on drums in the studio. Bonus track features Super Dave Ward on harp and Henry on trombone.
Songs include "Bogey Train", "A Bad Case of the In Betweens" and "Get Used To It".